Walking Tours
Discover London through one of our walking tours
Join us and learn more about London's:



You can either join us for one of our pre-arranged walking tours,
or get in touch to arrange a private or personalised tour of your own.
Chelsea
Date to be announced
What links the Chelsea Physic Garden to grapefruits and cotton?
We will explore the "village of palaces"via an eclectic array of botanists and artists, and Don Saltero's coffee house.
Peckham
Date to be announced
Peckham Rye is Cockney Rhyming Slang for which item of clothing?
We will learn about Muriel Spark, Boudica, Only Fools and Horses, a Library and the Stirling Prize, and William Blake and an angel.
Clerkenwell
Date to be announced
What links Farringdon station to the last public execution in London?
Lean about Revolutionaries (Wat Tyler, Stalin and Lenin),  Monasteries (Carthusian), Residences (Hercule Poirot) and Prisons (the Clerkenwell House of Detention).
Tours tend to run from 11 am -1 pm but times can be adjusted to your convenience.
(For those who would like a caffeine fix before the walk, we convene in a café from 10.30am.)
Walking tours always begin and end at one of London's tube stations.
Further information on the café and location will be sent nearer the time.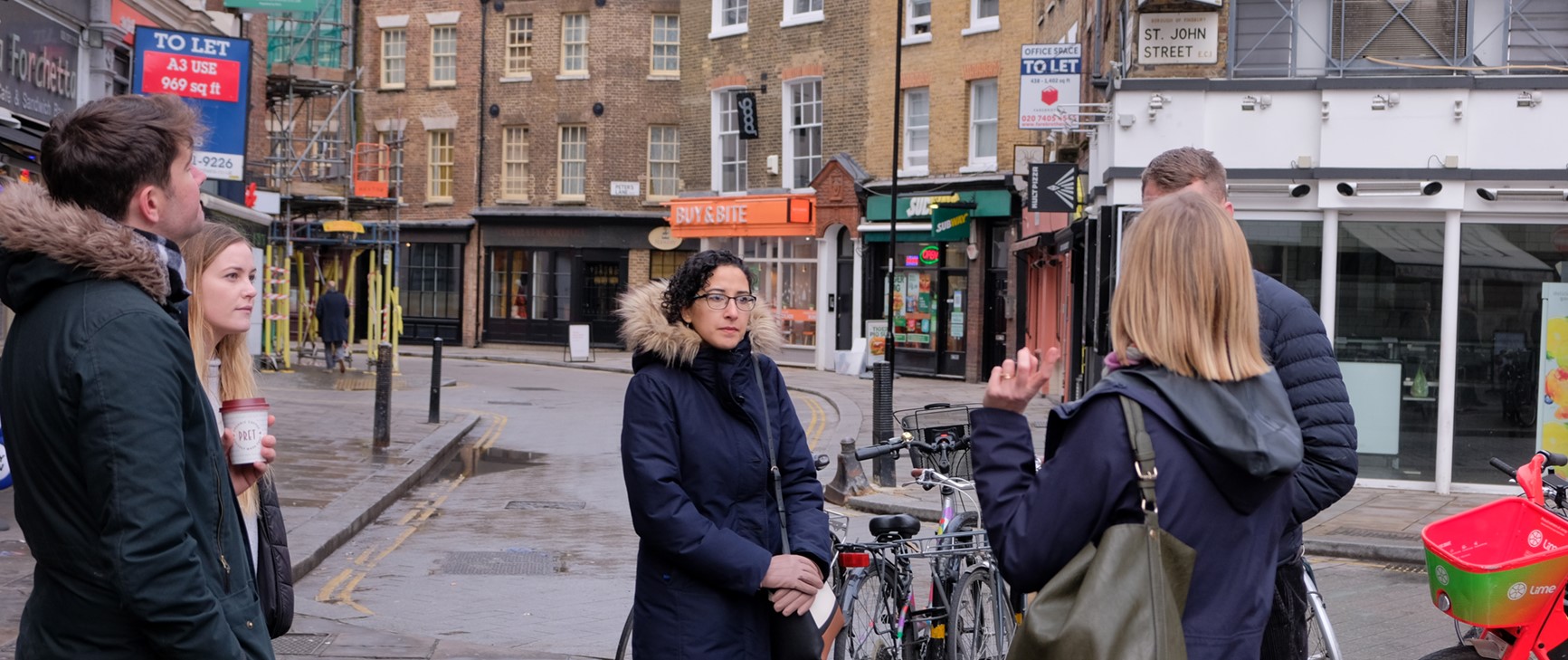 Alternatively, if there is a specific part of London, history period or architectural style that you are interested in exploring, or you would like to book a private tour, please get in touch with us so we can help you decide. In the meantime, here are some ideas:
THE EAST END: WHITECHAPEL, STEPNEY, MILE END, BOW, HACKNEY WICK & BETHNAL GREEN
SOUTHWARK & BOROUGH - CLERKENWELL, FARRINGDON & HOLBORN - KING'S CROSS - HACKNEY - SPITALFIELDS
 DALSTON, HOXTON, SHOREDITCH & OLD STREET - BERMONDSEY & ROTHERHITHE - HAMPSTEAD & HIGHGATE
MAIDA VALE, PADDINGTON & MARYLEBONE - COVENT GARDEN, ALDWYCH & THE STRAND
SOHO, ST JAMES'S & PICCADILLY - BLOOMSBURY - WESTMINSTER & PIMLICO
PRIMROSE HILL & REGENT'S PARK - CHELSEA, KENSINGTON & NOTTING HILL - MAYFAIR
ISLINGTON & CANONBURY - CHISWICK - DEPTFORD - STOKE NEWINGTON & HIGHBURY FIELDS
DULWICH, CRYSTAL PALACE & PECKHAM - STRETCHES ALONG THE THAMES
"I cannot recommend them more highly"
"Meg was great and full of stories about London's beautiful streets"
"It was an immensely enjoyable morning and I would love to explore other areas of London with Meg as my guide"
£100 per person for a minimum of 5 and maximum of 8 people per tour
(a maximum of 5 in periods of social distancing)
You will be led by Meg Ryder, a Londoner who hails from Pimlico and now lives in Camberwell.  Meg graduated with a Masters in History from Edinburgh University having studied History of Art and Architectural History in Rome.  She is a qualified solicitor who left the law to establish bespoke walking tours in London to follow her passion for all things historical, artistic and architectural.